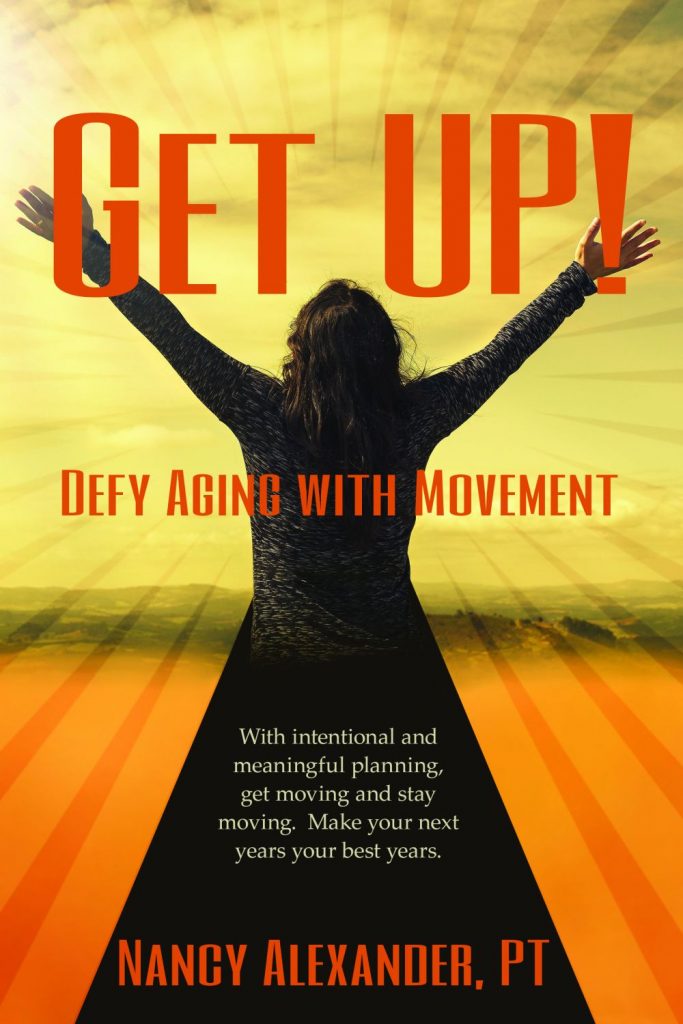 Nancy's New Book, Get UP! Defy Aging with Movement, Available NOW!
Get UP! Defy Aging with Movement is all about the importance of movement – how it can help you return to the activities you enjoy, let you live longer, and make your next years your best years. With so much living to do, you will start your future now by creating an actionable plan, designed to target your specific needs, with realistic next steps that will take you to a better life. You will be guided with chapters like Movement Is Medicine, What Really Happens When We Age, Movement's Gifts, The Miracle Drug for Chronic Illness, Balancing Act, and more. Wait no longer. Get up. Start moving now.
Available in paperback and e-book formats at Amazon.com
"I really enjoyed reading Nancy's perspective on the importance of moving to build strength, confidence and maintaining your independence. Her stories about clients and their success were inspiring. A small consistent effort can make a large impact on your health and lifestyle. No fancy equipment needed, just a desire to start a new chapter."
Amy Hoffman
Former Business Executive and Entrepreneur
"Nancy's inspiration shines through as she provides a comprehensive resource to help improve your quality of life.  Her thoughtful and supportive approach will motivate you to get up and get moving."
J.J. Mowder-Tinney, PT, PhD
Physical Therapist, Professor and Speaker
"Get UP! Defy Aging with Movement is an easy read that made me want to do just that…GET UP. I consider myself to be pretty active, but Nancy Alexander has the experience and talent that made me see that I can always do more. It's a great "how to" manual for building a simple plan for yourself, so you can succeed at better mobility and long-term health."
Laurie O'Shaughnessy
Retired CEO – Greater Canandaigua Family YMCA
"Nancy Alexander is an engaging, encouraging and passionate clinician and coach. Whether in a class, in post-op therapy, or in an individual training session, Nancy's depth of knowledge and genuine delight in her clients are evident the first hour one spends with her. That same friendly, approachable voice is evident on every page of Get UP! Defy Aging with Movement. Moreover, it is her years of experience and thorough research that make the book such a worthwhile resource. Nancy is surely intent upon 'moving' us into the most healthy and productive season of our lives."
Linda Sage-Fenti
Retired Educator and Active Adult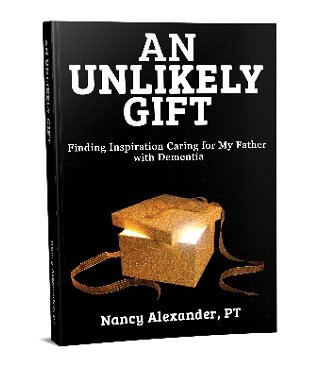 "An Unlikely Gift" Provides Caregivers a Different Point of View

Nancy Alexander, Physical Therapist, shares the story of her journey with her father, who lived with dementia for the last 18 years of his life. As his caregiver, she learned a lot about her father and even more about herself. With this book, she hopes to inspire others to appreciate the road they are on and to welcome the gift that awaits.
It is a love story. Always close to her father, this journey drew them even closer. Nancy had medical training and knowledge to help along the way. But, in the end, her heart was her strongest compass.
Sometimes we don't choose our journeys, they choose us. More and more of us will be called upon to be caregivers at some point in our lives. Not only can you survive it, you can thrive. Better days are ahead and they begin with you.
Available now in paperback and e-book formats.
Praise for "An Unlikely Gift"
Our happy readers have a lot to say about our books!
"Nancy did a wonderful job presenting the loving relationship between father and daughter and the challenges which dementia places on those relationships. Although her introduction notes this is not a "how to" book, I believe it will help provide insight and guidance to caregivers of those beginning their dementia journey."
Dr. Gary Kochersberger
MD, Geriatric Medicine Specialist
"Reading 'An Unlikely Gift' is a gift in itself. The stories and events of a father and a loving daughter are so heart-wrenching, sweet and loving. Nancy's journey will help one better appreciate relationships, caregiving, dedication, and love. Her growth through the pages and her career-changing decisions has brought her to a life of helping others appreciate life itself."
Bob Locke
Pharmacist and retired health care
administrator
"Being a caregiver is one which is difficult and challenging. In 'An Unlikely Gift,' Nancy shares the patience, selflessness and tenderness needed to navigate this overwhelming time. And she does it with unwavering love and respect for her father and herself. We are blessed to have her as an instructor as she guides senior adults to live their best lives with her well-researched skills and life experiences."
Ann E. Cunningham
Executive Director, OASIS Rochester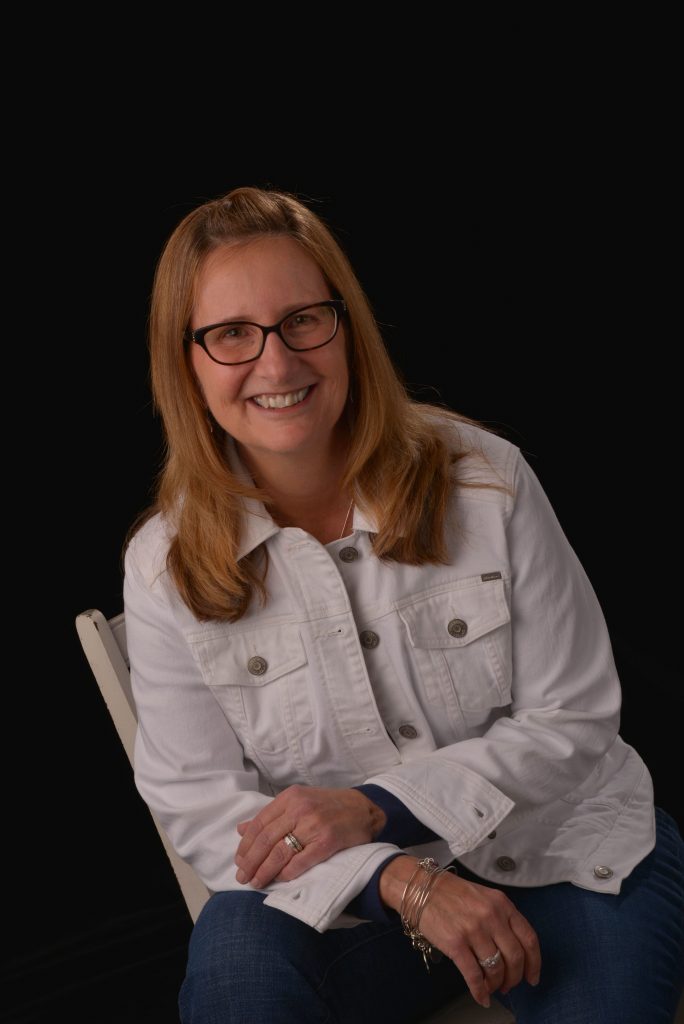 About the Author

Nancy Alexander is a licensed physical therapist with a passion to serve adults over 50 to help make their next years their best years. Nancy has treated thousands of patients over her 25-year career in many different settings. She holds numerous specialist certifications including Certified Strength and Conditioning Specialist with the National Strength and Conditioning Association, Senior Fitness Specialist with the American Council on Exercise, and Licensed Buff Bones® Instructor. Over 50 herself, her mission is to provide hope and guidance to others to help them feel better, move better and live better.
Nancy owns Professional Movement Solutions, LLC where she works privately with adults and teaches specialized fitness classes both in person and virtually. Her online classes are very popular with participants enrolled from across the country. She holds a degree from the University of Buffalo in Physical Therapy and from SUNY College at Oswego in English/Writing Arts. She regularly serves an engaged community via her Living Well Academy blog. She is a published author, popular speaker and certified mentor with SCORE, an organization that helps small businesses grow and achieve their goals. Before gaining her physical therapy degree in her 30's, Nancy worked as a marketing and public relations professional at major firms in New York City and Rochester, NY.
Nancy cared for her father for 18 years after her mother died which inspired her to write a memoir about their relationship and journey titled, "An Unlikely Gift: Finding Inspiration Caring for My Father with Dementia." This was Nancy's first book and was published in September 2018. Her second book, "Get UP! Defy Aging with Movement," is all about the importance of movement and how it can help you return to the activities you enjoy.
A self-described athlete, Nancy continues to stay active playing golf, pickleball, biking as well as exercising regularly. While managing her own injuries along the way she's had to make some choices, but stopping isn't one of them.
Private professional training… group instruction… community education. How can I help you? Call 585 406-0526 or email me at movementsolutions55@gmail.com to find out more.