By Nancy Alexander, PT, CSCS
Last month, you learned the prevalence of low back pain not only in adults, but in older adults. Low back pain can lead to difficulties performing home maintenance and also limit your ability to participate in activities you enjoy. Unfortunately, this impacts the quality of your life in so many ways.
I've heard some of you say low back pain is expected because of your age. However, what you are feeling is usually the result of structural changes in your spine and soft tissue more than just your age. No one can change your structure short of surgical intervention. But you can improve your flexibility and strength at any time, and at any age. The benefits derived include decreased pain and stiffness. Want the most bang for your buck? One of the best ways to invest in your body and help it feel better is by stretching.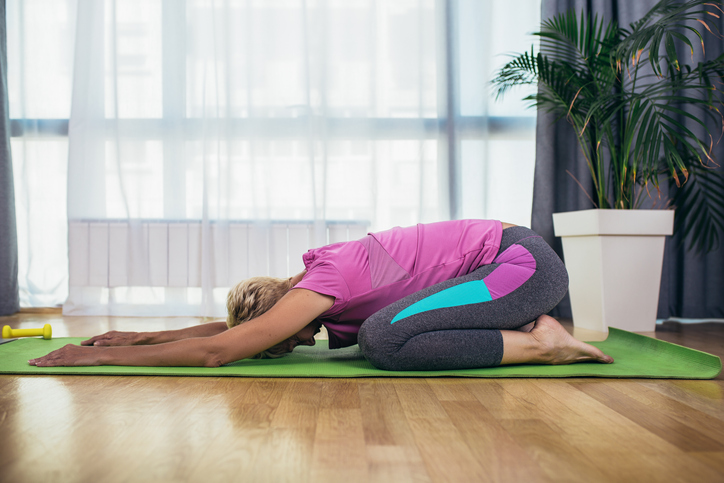 I can tell you from experience that stretching alone can eliminate pain. I use it all the time. I have a condition called spondylolisthesis, a structural deformity at my lumbar spine. I also have at my low back degenerative disc disease, history of disc tears, and arthritis. I know when I'm getting tighter than normal by the pain I feel in my low back. If I catch it soon enough, I can go through my stretching routine and abolish the pain in about 15 minutes. And it stays away.
That is why I love to stretch. And I also know I am making an investment in my next activity whether it be working out or playing sports. It helps set me up for success. I highly recommend it.
Stretching is one of the most effective ways to improve flexibility and mobility at your spine as well as many other areas of your body. For the sake of this article, we will be discussing the benefits of static stretching affecting your low back. This kind of stretching does not include bouncing and is not designed to prepare us for activity or competition. Those are topics for another time.
Static stretching consists of slow and steady movements that are best performed when muscles are warm, such as after activity. You'll want to target muscles that attach to your spine, pelvis, hips and legs to impact your low back. These include but are not limited to your hamstrings, piriformis, gluteal muscles, hip flexors and even your calf muscles such as gastrocnemius. Research supports you performing up to three gentle stretches with a static hold of up to 30 seconds for each targeted area. Stretching is best done daily but can be done less frequently with good results.
So, let's get to it. Here are the top 10 reasons stretching can help you reduce low back pain:
Reduces tension in the muscles supporting the spine. Relaxed muscles are less painful and stretching can achieve this.
Reduces stress. Related to our first benefit, stretching helps decrease your stress response which often happens at our upper and lower back. You so often hold stress in these areas.
Improves range of motion at a joint as muscles lengthen and approach their normal length with stretching. This improves your capacity for movement at a joint and decreases stiffness. Even better, the effects can last beyond performing the stretch itself. This is what I meant above when I said that stretching sets me up for future success.
Helps lengthen muscles at your spine which can help restore more normal joint forces which the spine is designed to handle. Thus, the spine will work more efficiently with less stress and strain.
Improves your posture. Muscles are elastic as they expand and contract as needed to keep your body in the right position, the right posture. Stretching allows muscles to lengthen which helps retain your spine's natural curves. Again, this helps reduce stress and strain on the spine and thus decreases pain.
Improves blood flow. Stretching helps eliminate restricted movement which can limit blood flow to that muscle. Decreased blood flow makes healing take longer and increases the amount of pain you feel. Even just a little bit of stretching can improve your blood flow and thereby improve your muscles' health.
Improves strength. When muscles are perpetually tight, they become shortened. And a shortened muscle is not as strong as a muscle at its normal length. This applies to every muscle in the body regardless of other factors.
Improves athletic performance. A body with maximal flexibility, mobility and strength will enjoy a greater chance of success.
Reduces muscle soreness after a new and/or vigorous activity. Research shows that static stretching after an activity can help reduce delayed onset muscle soreness (DOMS) which typically occurs 24-48 hours after the activity.
Reduces the risk of future injury by reducing the risk of muscle strains.
Recently my husband and I visited New York and by car, that takes at least 20 hours over a two-day period. To say I am stiff after that trip is an understatement. I swear my body adopts the curves of the seat I am in. It is an effort to stand up tall and my movement feels restricted almost everywhere. And when returning to Florida this time, I experienced sciatica symptoms down my left leg all the way to my foot. I knew this needed attention right away.
Enter stretching. The first day home I went for an easy bike ride. I needed some type of movement to warm up my muscles and that is what I chose. Walking would have served the same purpose. Right after that I spent a lot of time stretching on my mat – almost 30 minutes. My muscles were very tight and I also had significant dural tension, especially in my left leg. Ah ha! I knew the culprit(s). (Dural tension is restricted nerve mobility which is different from muscle tightness. Stay tuned for a future article on this topic.)
The first day was the hardest but it became easier with each subsequent day. The key is to stretch gently. Too much tension is counter-productive. As a result of my stretching, my sciatic symptoms at my left leg were gone by the night of my first day home. Granted that may not always be the case. I was fortunate. Perhaps it was because I addressed it so quickly.
Stretching is a key component of any well-rounded exercise routine. Learn how to stretch correctly and you can improve your flexibility, mobility, pain and strength. Stretching will be featured as one of the main components of my new BackStrong class starting online September 15th.  Join our class to learn more.  If you're looking for some stretching ideas now, visit my YouTube Channel HERE. Stretches are identified as such for a certain muscle (for example, Piriformis Stretch).
A consistent stretching program can go a long way in helping reduce low back pain while improving your level of activity. The benefits will not only be felt while you stretch but can be long-lasting with consistent performance. Now that's money in your body bank.