By Nancy Alexander, PT, CSCS
Last month I presented to you 10 reasons why stretching is so good for you. When we discussed stretching, it was in the context of lengthening muscles and muscle/tendon units to improve flexibility and mobility. Tight muscles, though, aren't the only soft tissue that can limit your range of motion and movement. Dural tension can restrict nerve mobility and this can also compromise your flexibility. Today I want to explain to you what dural tension is, how it relates to a history of low back pain, and what you can do about it.
This might get a little "sciencey" so hang in there. I will make this as clear as I can. I welcome your questions anytime.
Dural tension affects the nervous system (your nerves) is often associated with a disc injury at your back. Typically, this can affect your neck or your low back as this is where most disc injuries occur. However, as we get older, dural tension can also be the result of degenerative changes at your spine. This may be from arthritis, spinal stenosis, degenerative disc disease and even spondylolisthesis. As I have found when examining patients, if you have a history of low back pain and/or injury, chances are very good you also have some level of dural tension affecting your movement. Pain and even some prickly or tingly sensations in one or both of your legs are common if you have this condition.
Here's why. The dura is the structure that encloses your spinal cord. Think of this as a tube or an external lining of the spinal canal. Its consistency is similar to fascia in nature and is continuous with the exiting spinal nerves. The nerve sheath that protects the peripheral nerves (those nerves throughout your body after they exit the spinal canal) is another fascial lining that begins at the dura. Adhesions and obstructions that restrict the movement of your nerves can be felt anywhere in your body. And know that the symptoms may be produced far from where the restriction is.  Read further for a specific example of a mobilization technique that can be done by moving your foot.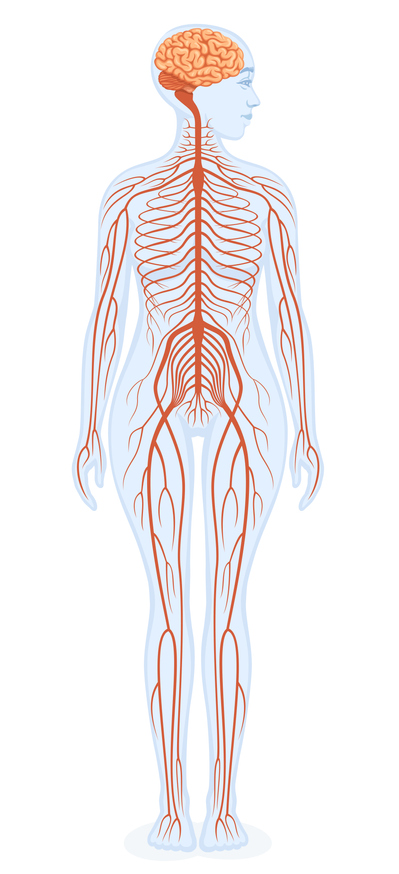 If we use our disc injury example, when a disc bulges to the back, it can compress on the nerve exiting there and dura directly. This injury to the nerve and dura causes changes in structure and can cause damage. The dura-nerve interface can then become restricted and requires release to free it up again. If this type of injury occurs repeatedly, the result is magnified. Hence, my comment above about its frequency with chronic back pain. It can also change in intensity for various reasons. It will vary constantly and often you will do best by incorporating dural mobilizations into your on-going exercise routine.
Spinal stenosis is one of the most common reasons for back pain as we age and can also be a major instigator of dural tension that restricts nerve mobility. With stenosis, the openings at each vertebra where the nerves exit become smaller. Thus, there is less room for the nerve to move through. Nerve compression can result and this negatively affects the nerve and dural interaction. Stenosis can occur in one of two places. Nerves can get hung up as they exit the spine as I just mentioned. But narrowing can also occur at the spinal canal (or central canal) which can result in pressure on the nerves there as well.
I know this impact on a personal level. Of those conditions that I mentioned above — arthritis, spinal stenosis, degenerative disc disease and even spondylolisthesis — I have all of them to some degree at my neck and low back. Dural mobilizations are an integral part of my personal exercise routine. I do them every single time. Some days my flexibility is better than others but I still do them to manage this chronic condition. I simply must in order to lead my active life more comfortably.
Dural tension is best assessed and treated by a physical therapist (or occupational therapist for the neck and arms). There are different nerves and nerve bundles in the body that could be the culprit. Identifying those areas will make the treatment that much more effective so find someone who is skilled in this area. Continuing education after I became a physical therapist was crucial to help me develop an understanding of this condition and the ability to treat it effectively. Don't be afraid to start a conversation with your therapist to ask if they think it might be a factor in your recovery. It can be done manually with the assistance of your therapist or done with certain movements on your own. Often the best treatment includes a combination of both.
Some nerve restrictions (dural tension) are more common in some areas of the body than others. I use generalized dural mobilization techniques in my Buff Bones® classes and my new BackStrong class to address restrictions coming from the lumbar spine or low back. It is important that these movements be gentle, especially at first, to reduce the risk of aggravating symptoms. When done correctly, they can help you feel incredibly better quite quickly.
Some of you from my Buff Bones® classes may recall the hamstring stretch we do when laying on your back and "pumping" your foot up and down. "Bump into tension and then get right out," I often say. This is crucial. These maneuvers are not performed with a steady static hold like a muscle stretch. Nerves don't get longer or shorter like muscles do. They are like a string, not a rubber band.
As I mentioned above, it is the constant movement of gently bumping into tension to free the nerve up that brings success. Often, I mention the analogy of flossing your teeth. It's the back-and-forth movement of your nerves that gets the desired effect. Think of it as a glide, not a "stretch." Stretching, especially if done aggressively, can injure a delicate nerve.
The above type of dural mobilization is just one way to do it. There are many. Finding the right one for you can take time. And in the end, it may or may not be beneficial to you. Furthermore, it can be painful and counter-productive if performed incorrectly. Please consult with your physician or movement specialist if you have any questions or feel this may be the reason for your symptoms. It is important to get professional help and guidance with these maneuvers.
In summary, muscle tightening may be the cause of your compromised flexibility or range of motion. But this restriction may also be due, in part, to dural tension. This can be often overlooked. Obtaining the right assessment for your individual needs can help determine if dural tension is present and help identify the most effective treatment. Done correctly, dural mobilizations can be a critical part of your comprehensive treatment plan to help you move more freely and comfortably. And this will help you get back to those activities you enjoy faster.