By Nancy Alexander, PT, CSCS

Events over the last few years have caused you to be resourceful in how and where you exercise. Hopefully you chose to continue to move. Many of you took to exercising in your own home as gyms closed or simply were not appealing anymore. Workout facilities can be a great way to exercise, don't get me wrong. The social aspect alone is worth considering. But exercising wherever you are, without special machines or weights, can be just as effective and a great alternative for anyone looking to improve their health and fitness level.
Don't just take it from me. Listen to one of my regular class participants who was recently in a motor vehicle accident and broke her neck. "I give the value of my present strength to our classes over several years. I am very strong. I did not realize it until it was and continues to be very important in my recovery. I have progressed from being bed-bound, to walking with a walker and now I am using a cane which I forget from time to time. Friends are amazed at my progress as am I. Thank you."
Strength matters when life happens. And life happens. Movement and exercise are serving her well. Bravo to her for doing things most others simply don't do.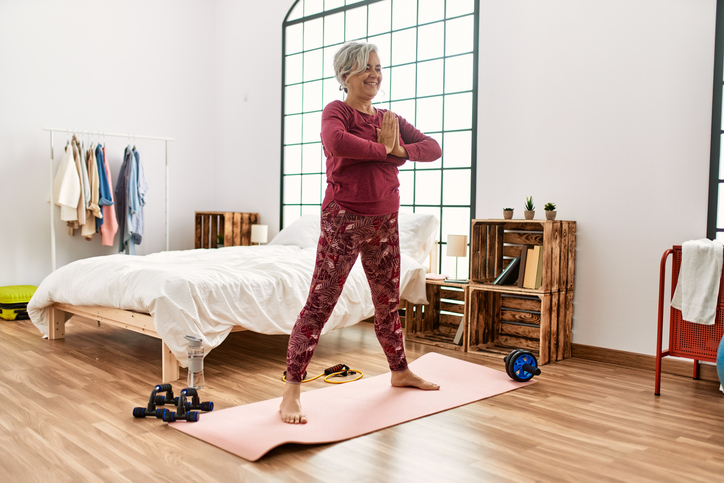 As we age, both strength and flexibility are important to our mobility and our ability to live an independent life. Luckily, weight-bearing exercises address both. Those benefits don't stop there, though. The benefits of weight-bearing exercise are many. Here, I've identified seven benefits along with some examples of how you can apply them.
Weight-bearing exercise:
1. Helps build strength. Strength contributes to your ability to stand, walk, ascend, and descend stairs. Strength helps you shop for food, allows you to lift a gallon of milk or maybe a case of water. Strength helps you clean your home or mow your lawn. Strength helps you do almost any activity you do in your daily life.
In addition, when you build strength, you build muscle mass and that helps increase your metabolism. In turn, this can help you control your weight if this is a goal of yours. Muscle tissue is metabolically active, meaning it burns more calories at rest than fat tissue does. Therefore, the more muscle mass you have, the more calories you will burn throughout the day, even when you are at rest.
Strengthening can be done when you use your muscles to lift or use a body part against resistance. Even without hand-held weights or cuff weights, there is one powerful force that can provide that resistance. And that is gravity. Take a straight leg raise for example. When you lie on your back, straighten one leg, and then lift it up in the air you are using gravity as your resistance.
In addition, a long leg acts as a long lever arm thereby increasing the force needed to raise it. Conversely, raising a leg with your knee bent is easier because it is a shorter lever arm. Nothing like a little science and physics to enhance your workout. Gravity and using the lever arm theory are very effective ways to increase your strength.
2. Helps improve functional strength. As a physical therapist, this has always been a critical component of any rehab program I design for my patients. Standing and weight-bearing movements mimic real life movement.
For example, sit to stand activities help improve strength in your major muscle groups of your legs and buttocks including your quadricep, hamstring and gluteal muscles. And guess what… it will help improve your ability to stand from any seated surface (even low or soft ones). Please view the feature video this month in my June newsletter for more information on how you can practice this in your home.
3. Helps improve cardiovascular fitness. By performing continuous movement exercises like marches, side stepping, and even movements resembling dance moves, you can increase your heart rate and therefore improve your cardiovascular health.
Some of you continue to utilize my dynamic warm-up video on my YouTube Channel. It is free to members of the Living Well Academy and lasts about 13 minutes. View it HERE and bookmark the link for easy access whenever you want to get moving.
4. Helps improve bone density. You can improve your bone health three ways: By performing weight-bearing exercise, impact, and resistance training. All three can be done with this type of exercise. Keeping our bones healthy as we age is very important to our health, quality of life and safety. Stronger bones have less of a chance for fracture when injured.
Marching in place as noted above in #3 can also help improve your strength while building stronger bones. It has all three components combining weight-bearing exercise with impact and resistance training. Now there is some return for your efforts.
A plank is also an example of an exercise that helps you build stronger bones. All four extremities get in the act here providing weight-bearing to key long bones in your body while adding an advanced core workout to help protect your spine.
5. Helps improve flexibility. Many stretches can be performed with body weight alone and be very effective to meet your needs. Use the structure of your environment to help you with this.
For example, you can use a wall for support to help perform a Runner's Stretch which targets your calf muscles. While placing hands on a wall for support, simply slide one foot back, keep that foot pointing straight ahead, and gently lunge forward over the other front bent knee keeping your back heel down and the back knee straight.
If you have stairs, you can stand on the lowest step with both feet, hold onto a railing and back your heels off the step and let them gently drop off the edge of the step. Body weight and gravity are combining to give you a very effective calf and arch stretch.
6. It is easy to do. As a result, you are more likely to exercise. There is no need for a gym membership or any special weight-training machines. Want to enhance your results? Light handheld weights and cuff weights can always be used for added resistance. These are easy to obtain online or at your favorite department or sporting goods store and do not take up any significant space in your home or apartment.
Here's a tip if you don't have handheld weights yet want to add some resistance. A bottle of water weighs one pound. You can hold a bottle of water in each hand with your palms up and bend your elbows while lifting the bottles up and down reciprocally. This is a great way to perform a bicep curl.
7. It is portable.  This makes it easier for you to stay committed to your program. Travelling a lot? Spending a considerable time away from your home? No problem. With just a space five feet square, you can perform a dynamic warm-up, do standing exercises, and lay on your mat on the floor to add variety to your routine.
As some of you know, I am spending my summer at camp – a fifth wheel at a lovely campground in the Finger Lakes region of New York. Our space is compressed. But I do have a five square-foot space for me and my mat. I have begun exercising here by performing the very classes I teach.
There is a lot to like about weight-bearing exercise. You can be as gentle or as vigorous as you want. Often just changing your body position can help you accomplish this. Be safe and exercise to your tolerance. Change it up as often as you want to keep yourself interested and motivated. If exercise is new to you, please consult with your physician to see if weight-bearing exercise is right for you.
Much of the year I teach four specialized exercise classes per week and each one is based on weight-bearing exercise. As a physical therapist and certified fitness professional, I know the benefits from a science perspective. Anecdotally, I hear its praises all the time from many of you including the one noted at the beginning of this article.
Weight-bearing exercise works. Consider how you can incorporate this into your routine, wherever you are. Then you, too, can experience what improved strength and flexibility can do to improve the quality of your life.