By Nancy Alexander, PT, CSCS
I spent five vigorous years in physical therapy (PT) school to learn how to assess and treat multiple injuries and ailments. This included numerous diagnoses affecting every part of the body. This included how to properly treat a patient after a surgery (any surgery). This included measuring objectively what was wrong so that it could be made right. In all of that, included also was learning what normal movement was for a body and for each body part. What is your "normal?" The answer can be found in your movement and exercise routine.
This is not to be taken lightly. It is critical to know when your body starts acting in ways that are different from your norm. How do you know if something is wrong if you don't even know what is right?
Now that I've got your attention, let me share with you who the real expert is in this matter. It is you. You are the single best person to know what normal is for you. Yes, I have training in assessing range of motion of a joint with a goniometer. I can perform manual muscle testing to assess your strength. I can measure your flexibility. I can put objective measures to your balance and coordination. I can help you define what is not functioning properly and provide a strategy to improve your condition. I'm happy to team up with you to improve your health and fitness level. But you, and only you, have the potential to know right away if something is not right. That is huge.
Everything I do is geared to educating you about your body and its potential for movement and for living a life. This article is no different. I am here to tell you that you can learn your "normal." You can learn your normal joint range of motion. You can learn your normal flexibility. You can learn your normal strength. You don't need a PT degree to know all of this, either. Not only can you learn it. But it is critically important that you do. You just need to do one thing.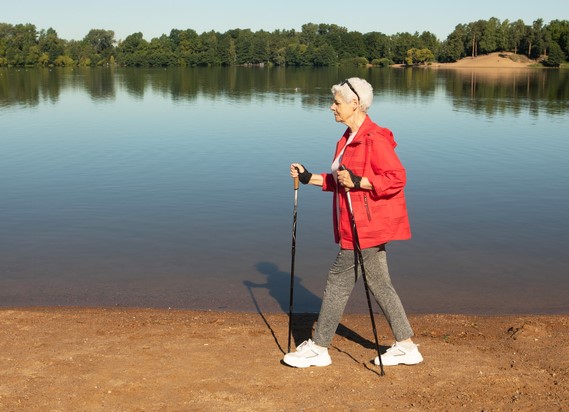 Move. Walk. Exercise. Stretch. Use your body and listen to it. Feel it. Watch it. Move. By moving and doing certain exercises and activities consistently over time, you will learn what to expect. You will notice how your body moves, how it feels, and learn what your normal is. And you will learn what is not normal for you. This is arguably one of the most important benefits of regular exercise. It's just not discussed as often as it should.
Sure, movement and exercise have other benefits. According to the Centers for Disease Control and Prevention, "Being physically active can improve your brain health, help manage weight, reduce the risk of disease, strengthen bones and muscles, and improve your ability to do everyday activities."
Source: https://www.cdc.gov/physicalactivity/basics/pa-health/index.htm#:~:text=Being%20physically%20active%20can%20improve,activity%20gain%20some%20health%20benefits.
Want to know more about the many benefits of exercise? Visit my book, "Get UP! Defy Aging with Movement." There are chapters devoted to how your body responds to exercise as you age and the benefits that arise from this. But here, today, let's identify some examples about how you can learn your normal.
Stretch
Muscles change length when they contract and relax. Both with excessive use and with little use, they can get tight and even shorten. By stretching a muscle, you help keep it at its normal length which maximizes its function and normalizes forces at nearby joints. Stretching improves performance, helps reduce pain and decreases wear-and-tear at these joints.
Take the hamstring muscle group, for example. This group of three muscles starts at your sit bones (one at each leg) and attaches below your knee joint. Tightness here can limit your ability to straighten your knee. If you have consistently stretched this area, you will know immediately if you are unable to straighten your knee fully. (See the YouTube featured video in the April 2023 newsletter for more information about this stretch.) The alarm should sound here.
If you lose your ability to straighten your knee completely, you will consistently walk with a knee slightly bent. Not only does this produce a limp, but it dramatically increases tension and friction behind your kneecap (or patella) causing pain and inflammation at the front of your knee. This altered walking pattern will also add stress to more and more areas of your leg and even your back over time causing additional pain and inflammation.
When you first notice this, that is when you need to pay attention to it and perhaps stretch more often. If that is not successful, then consult with your physician or movement specialist to come up with a plan of correction. The earlier you do this, the better your chance of a quick and successful outcome. And the sooner you will be able to walk pain-free.
Strength and Balance
When you stand from any seated surface, both strength and good balance are required for success. This doesn't matter if it is your dining room chair, your couch, your car, or even your toilet. This activity is essential for your mobility, your safety, and your independence.
What is your ability to stand from any of the surfaces above? Are you able to rise quickly, without arm support and come to standing in one swift move without a loss of balance? Do you need to touch anything to steady yourself in the process?
With a subtle loss of strength and balance, there is one modification I frequently see in the home and clinic. When they come to standing, the back of their lower legs (their calf) will snap back to the chair or surface they were sitting on and thus use it to support them. Once again, sound the alarms.
Strength and/or balance is declining in this case. The inability to stand without touching anything (assuming you could recently do this) may be the first sign you see. Many overlook this subtle change in performance when standing. Listen to it. Don't neglect it and then get to the point of a fall to decide to take action. Now is the time to address this. A higher chair or surface is easier to stand from than a lower (and softer) one. If you can find a higher and safe surface, practice standing and sitting from this surface with repetition to improve your strength and balance. Once improved, you can continue to practice this on a lower surface. This can continue until you regain your ability to stand from your normal surfaces without any support, and do it safely and with good balance on a consistent basis. And be proud of yourself because you just decreased your risk of falling.
Move
Your performance of an exercise or activity, done consistently over time, provides incredibly valuable information about your body. Move. Exercise. Find a way to use your body that is meaningful for you, successful for you. Watch, feel, and listen to what your body is doing. If something changes, make note of it. Monitor it for a while to assess its consistency. If necessary, take action to correct it.
Seek medical consult from your physician if your condition doesn't return to your "normal" within an appropriate amount of time. Catching something early is much better than waiting and will typically reduce your recovery time.
Please know though that if your mobility is significantly affected and you experience sudden pain and perhaps swelling that is not easily relieved, call your physician right away. This will more likely be the result of an event (or trauma) that leads to an injury. As you can gather by now, what we are addressing here is not the result of a traumatic injury. What we are talking about are those subtle cues that your body is giving you when it is changing due to an unknown cause.
You are the best one to know when something in your body is not right. Start today and pay more attention to the quality of your movement. Reap the many benefits of regular exercise, and even discover your "normal."